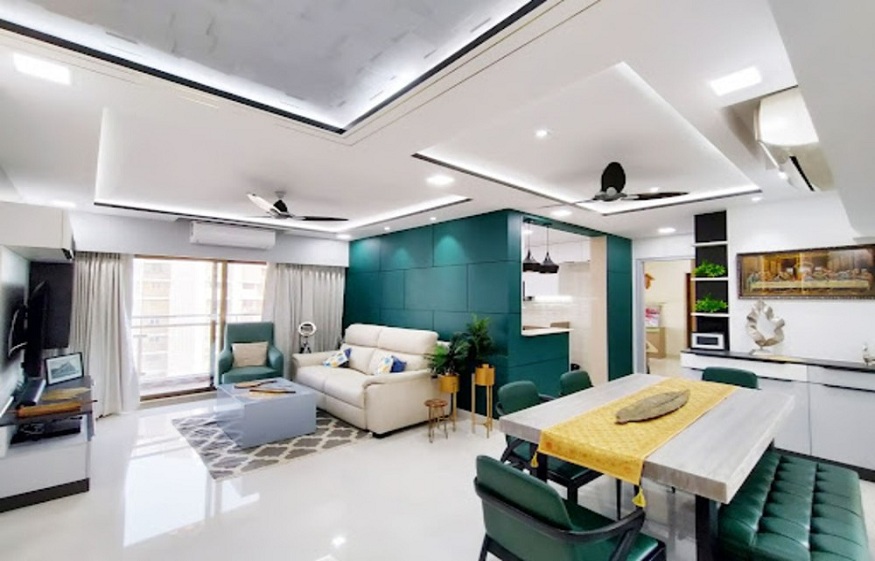 6 Best Types of False Ceilings for Your Space
Read Time:
3 Minute, 20 Second
False ceilings have been a trend in India for a long time now. A lavish property is incomplete without an attractive ceiling. Every time guests walk into your house, they must be in awe of your interior space. Walking from your main entrance to the living room, your guests will gaze at the mesmerising ceiling and the attached chandelier.
False ceilings are accountable as a second ceiling layer placed below the structural portion. The materials commonly used to make false ceilings are wood, PVC, glass, gypsum and POP and others. These ceilings not only look good, but also add an aesthetic presence and last longer.
And, as appealing as it might seem, the false ceiling also has many functional benefits. Considering all of the factors, it becomes important for you to choose the best false ceiling for your new home.
This article elaborates on some common types of false ceilings, which will help you build a stand-out house.
1. Gypsum False Ceiling
Gypsum is obtained from calcium and made for the lightweight false ceiling. It is placed in the form of boards, which are then hung from the ceiling using wooden or iron frameworks. Depending on the design or the interior plans, the false ceiling will be crafted and painted accordingly.
2. POP (Plaster of Paris) Type False Ceiling
The POP ceiling is one of the most common types of false ceilings preferred in India. Installing a POP false ceiling will add insulating properties to keep your home warm in winter and cool in summer. It is easy to carve out your dedicated false ceiling design and be assured of its durability and longevity.
3. Wooden Type False Ceiling
Wood has become one of the best false ceiling materials because of its natural texture and grain. Adding a wooden false ceiling design will give a rustic and country-home style appeal. You will mostly see this type of false ceiling in residential properties over commercial properties. Wooden ceilings can be embedded with various lighting and design options. It goes well with the appeal of all of the rooms.
4. PVC Type False Ceiling
PVC false ceiling is one of the cheapest types you can opt for! Most of the budgeted house owners prefer PVC over others. It is a strong plastic material with a smooth surface and can be prepared as per desirable shape & size. PVC is water resistant, which will ensure the durability of the ceiling, even when there's water leakage. PVC is termite-proof and demands very low maintenance than the other types in this list.
5. Metal Type False Ceiling
Metal ceilings are usually made out of aluminium, galvanised iron or steel. This type of false ceiling is executed in the forms of tiles, planks or panels and is easy to fix as per the design plan. The metal panels or tiles are prepared in various shapes and dimensions to complement the planned design. The standard thickness of the metal plates for the false ceiling is around 0.4mm to 1mm. Thus, it ensures a strong and forever-lasting false ceiling on your property.
6. Glass Type False Ceiling
Glass is one of the most popular types of false ceiling material when it comes to adding mind-blowing aesthetics to the house. If you have plans to install amazing lighting works around your house, the glass ceiling is what you would love to implement. Moreover, glass ceilings have the best insulation properties, which makes them ideal for both residential as well as commercial spaces.
Conclusion
Among the best home decor ideas, a false ceiling holds the utmost importance. Considering that, here are the few types of false ceilings that you should consider on priority! If you are about to buy a new house and want to customise the interior as per your taste, do not miss out on the ceiling work. Brilliant false ceiling designs, built with robust and long-lasting material, will add a vibrant charm to your house.