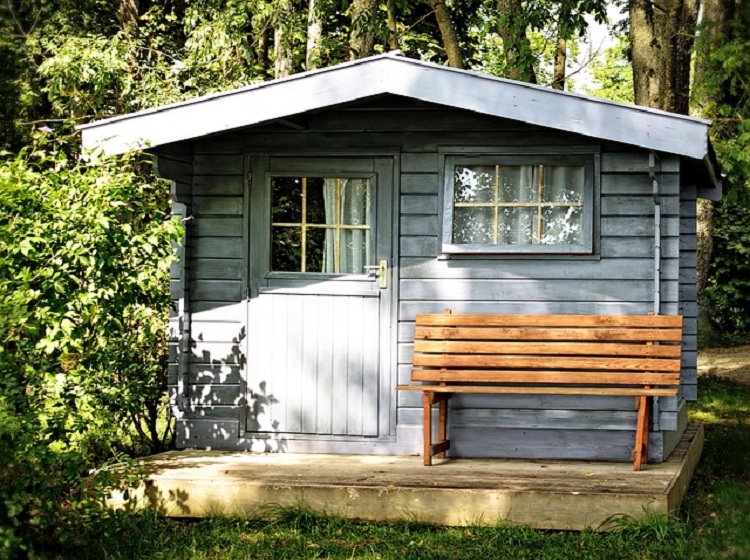 How Much Does it Cost to Add Plumbing to a Shed?
Read Time:
5 Minute, 38 Second
If you have a shed on your property, you might have considered the idea of upgrading it. Whether you want to make it a workshop, office, man cave, chill-out zone, or even a spa, there's much to consider before starting the project.
Plumbing is one of the most basic amenities you will need in your shed. You might want to add a faucet, sink, toilet, or shower, all of which have specific requirements. What pipes can you use? How much will it cost you? Do you need permits? Read on to find out!
Cost to Add Plumbing per Linear Meter
The cost of adding plumbing will depend on a lot of different factors. Is your shed right next to your house, or is it in some far-away corner of the yard?
The further away you will have to run your pipes, the more it will cost you. The price is calculated per linear meter and also depends on the type of pipe that you will be using.
Chlorinated Polyvinyl Chloride Piping (CPVC)
CPVC pipes are a popular and inexpensive choice. These pipes are rigid and do not corrode. The predicted lifespan of this type of plumbing is between 50 and 75 years. However, CPVC pipes have a somewhat higher potential to develop leaks. The CPVC pipe per meter costs varies between £1 and £3.
Polyethylene Piping (PEX)
PEX piping is slightly more expensive, but it's also quite flexible and doesn't rust, leak or burst. On average, PEX piping is expected to last up to 100 years! The cost per meter varies between £1.8 and £4.
The total cost of running a pipe to your shed per square meter will total out somewhere between £150 and £450 per linear meter, depending on the type of pipe, whether it will be buried and at what depth, whether the plumber will have to dig through soil or concrete; and more.
Estimating the Cost to Add Plumbing in a Shed
The cost to add plumbing to your shed can vary wildly, depending on your project's specifics. We're discussing ballpark estimates for how much it can cost on average. Only a certified and experienced plumber can give you a more precise quote once they know your needs and are familiar with the project at hand.
Plumbing Labour
Adding a cold water source and installing a sink, fridge, or other appliances in your shed will take around three days and cost £500 or more. This is if the shed is attached to your house.
If your outbuilding is somewhere far away, the cost can easily go over £1500 and take up to a whole week to complete. The average hourly rate for a plumber ranges between £40-£60, depending on the plumber's experience and where you live.
Excavation Work
If your shed is right next to or even attached to the house, excavation might be unnecessary.
But if the piping has to be run underground to reach the shed for some structural reason or just because it is somewhere far away, this will require excavation work. The new piping has to be buried to a minimum of 750 mm under the ground.
Far-out structures will cost you quite a bit more, mainly because you will need more piping and a trench to be dug out for the pipes to be laid in.
Any complications, such as digging through concrete, will add to the needed time and final cost. Digging out a trench without complications will cost you around £15 or more per metre.
Connecting the Water Lines
The quote given by your plumber will depend on how many fixtures you want to be installed in your shed and what kinds they are.
Installing a sink is one thing, but installing a hydromassage shower is a different ball game. Talk to your plumber and explain what you imagine, discuss whether it will be possible to accomplish, and how much it will cost.
The price for installing and connecting a fixture to the water line will vary greatly depending on if whether it's something big or complex. You will also need to consider whether you will need hot water and how that will be supplied.
Electrical Work
While you're busy planning where all the pipes and fixtures should go, don't forget that you will probably need electrical work done too. Any lighting, heating and hot water generation will require wiring to be installed, preferably by a professional electrician.
Running cables from your house might be a big task if your shed is far away, as they need to stretch overhead or lay underneath the ground.
Having it run under the ground is a sensible choice, as it won't be an eyesore. In this case, you will need a steel-wire reinforced cable, which must be buried at least 300 mm deep.
The final cost for electrical work will depend on – you guessed it – the specifics of your project. A rough estimate for electrifying a shed is that it will cost you around £600 and will take two days to install.
If you won't be using too much electricity, consider installing photovoltaic panels and/or a solar hot water system to save on installation costs and energy bills in the long run.
Permits and Building Requirements
Yes, it might sound annoying, but if you're planning to change the use of your building, you will probably need a permit for everything to be completely legal.
If your shed was previously nothing more than gardening equipment storage space, but now it will be used as a living space with fixed plumbing, that will mean a change of the type of use and require a building permit. Your property tax may also be adjusted according to the renovations you will be doing.
Discuss these changes with the specialist(s) you will be hiring, so you can decide what documentation will be required. They might even assist you in forwarding the paperwork to the relevant authorities!
Keep in mind that any work done without the proper permit can be considered illegal, and you might face legal repercussions as a result.
Conclusion
Whether you want to remodel your garden shed into a man cave or a spa or just add a sink so you can wash your hands, you will need to run plumbing for these new amenities.
But like any renovation work, you must calculate how much it will cost you and whether the project is feasible.
Now that you've read our article, you have a general idea of what this undertaking might cost you. If you're itching to get started, just contact an experienced local plumber and begin discussing the nitty-gritty!