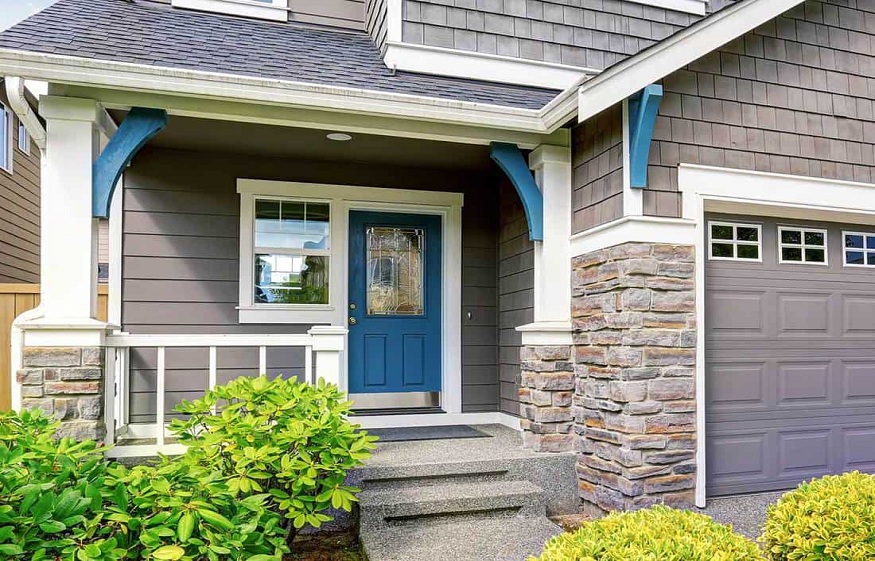 Top 3 Choices for Home Doors That Offer Security
Read Time:
4 Minute, 53 Second
The search for home doors that provide security is becoming more and more common. No matter how safe your neighborhood is, even if you live in a gated community, everyone has a responsibility to be concerned about the safety and well-being of their families.
Today's home burglars are pretty cheeky. It is estimated that at least 34% of burglars enter directly through the front door and can pass through your entire house, taking everything they can, in just 10 minutes!
When it comes to home security, having a solid and well-secured front door is the essential first step. Alarms are a great addition, but in the time it takes for the police to arrive on the scene, the burglar can rob your home and be miles away already. This is why the security of your doors should be one of your first lines of defense.
What about these steel external security doors?
No one can deny that the steel is very strong, however, no one can deny that these steel external security doors are not only unsightly, but they completely block your view of the outside.
Steel security doors also ruin the curb appeal of your facade. It's true that they send a message to burglars, but what about the message sent to your neighborhood? No one wants to live in a house that looks like a prison!
You don't need to use steel exterior doors to achieve high security. At Alumalco, we make super strong, yet lightweight aluminum doors in a wide variety of styles and colors that will protect you, your family and your belongings from unwanted entry!
In addition to beautifying your facade, our recommendation for the best aluminum security doors will provide a beautiful view while keeping your family safe.
Here are our top 3 choices for door security:
# 1 European style aluminum doors
With over 100 different styles to choose from, choosing the door that will best suit your needs is made easy with our wide selection of aluminum door types.
Whether you choose our solid aluminum door, or the one with glass inserts, you can't go wrong. All our doors offer locking systems with high quality German mechanisms. You can choose from a 1, 3 or 5 point locking system.
German engineering means your security locks are of the highest quality, and have decades of engineering and testing. That is why the world's safest and most reliable locking mechanisms are designed and manufactured in Germany.
If you are concerned that using inserts or glass panels poses a safety risk, be aware that Alumalco offers laminated glass which, as shown in this video , is virtually unbreakable by the average burglar, especially without making any noticeable noise.
For the safety of your home, the smart choice is to choose aluminum doors. Because they are made with strong and stable materials that resist forced energy much better than wood, composite, fiberglass or PVC doors. Aluminum doors will never split, crack, warp, and color will never peel. They also require a minimum of maintenance. No more painting, staining or replacing damaged parts.
Choosing an aluminum door from Alumalco means that you can have almost any color you like, even different colors for the interior and exterior, if you want. With some door materials, like PVC or composites, you cannot paint them in darker colors for fear of warping. This is not the case for aluminum doors.
All Alumalco aluminum doors also feature thermal cut technology. This means that outdoor temperatures will never get inside, and vice versa. Our doors are certified airtight and super energy efficient.
In addition, aluminum is one of the most environmentally friendly materials available. If you're concerned about your carbon footprint, aluminum doors would be the most eco-friendly option, as this material can be used over and over again.
For those more interested in the stunning views, you should take a look at our next pick for door security.
# 2 Sliding or glass doors
You might think that it would be impossible to enjoy the beauty of a glass front door while maintaining a good level of security, but it is possible!
Laminated glass is almost impossible to break. Watch this video for yourself and see the difference laminated glass can make when it comes to door safety. Incredible, isn't it?
Alumalco aluminum glass doors can be manufactured with double or triple glazed laminated glass for optimum safety, energy efficiency and sound insulation.
We only use the highest quality aluminum in the construction of our doors which means extreme strength. This video shows how easily even the largest sliding glass door opens thanks to our unique system.
Of course, if you prefer a more traditional opening, you can still get the beautiful view you want without sacrificing safety. Alumalco's secure entry doors feature the same high-quality German locking mechanisms as our solid aluminum doors and laminated glass, meaning you never have to worry about someone opening your front door.
This video shows the beauty of a traditional style aluminum door from Alumalco. Aluminum doors are strong and durable. They can also use a slimmer frame, so you can enjoy all the beauty of the great outdoors without sacrificing your safety.
If you're interested in a slightly different style, you won't want to miss our third pick.
# 3 Accordion doors
While most people think that aluminum accordion doors are for interior use, the truth is that these doors can be used in any opening, whether interior or exterior.
Alumalco aluminum accordion doors, like all of our products, use only the highest quality materials, including German designed locking mechanisms and our optional 1, 3 or 5 point locking systems. Add laminated glass to your aluminum accordion doors, and you not only have one of the safest entry doors available, but a unique and beautiful look for your home.