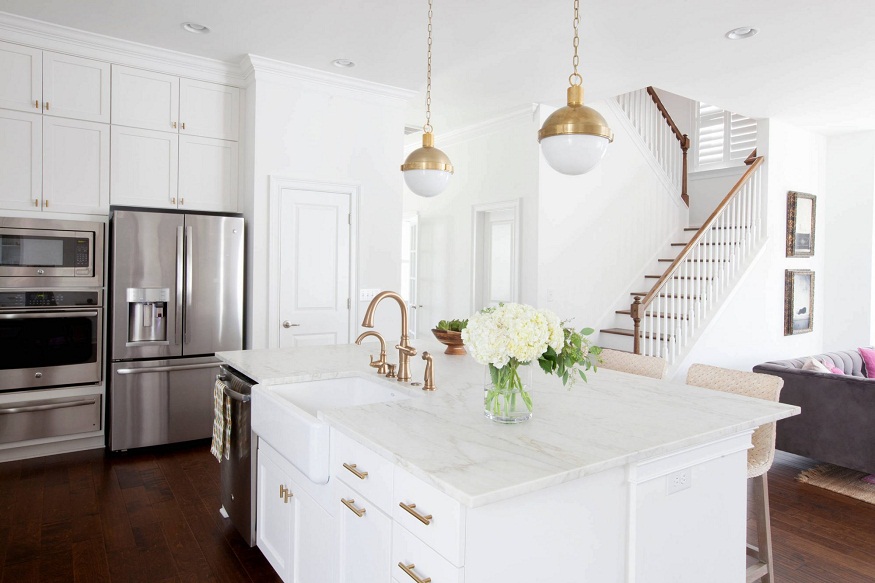 What are the kitchen trends for 2021?
Read Time:
2 Minute, 13 Second
To change your kitchen or decor, it is always useful to get a little inspiration! Here are the top 65 of the most beautiful kitchens selected by the editorial staff!
More and more time is spent there in the kitchen . Of course to cook good meals there and to eat there. But in the kitchen, we also share happy moments with family and friends. It is for this reason that it is essential to feel good there and therefore to choose the right cuisine and the decor of this living room . Large or small, with a central island or a high bar, vintage or modern …
What are the kitchen trends for 2021?
In addition to being aesthetic, the kitchen is above all functional and user-friendly. To make it pleasant to live in, follow the latest trends for 2021:
Popular searches
Wood remains a safe bet for a warm kitchen;
The wallpaper has also won over the kitchen. But be careful to choose it well! A washable wallpaper is more than necessary so that it does not get damaged;
In open kitchens, the central island is a real essential, both aesthetic and functional;
On the color side , we focus on shades that are both warm and dark. The navy , the fir green but also yellow saffron and terracotta will enhance your kitchen.
Kitchen: closed or open cupboards?
To give clarity to the kitchen , we would tend to favor open storage . This is also the opportunity to exhibit his most beautiful dishes . You can also put some indoor plants or decorative objects there . But to avoid cluttering and ordering it , closed storage is also a must. We store the kitchen utensils that we use the least often as well as food .
Kitchen: which splashback to adopt?
Nothing like an original splashback to spice up the kitchen. The tiles are now available in different models, more current, such as hexagonal or metro tiles . Easy to clean, it takes on warm colors like pine green . The cement tiles are also trends and give an oriental touch to the kitchen. For a unique credenza, opt for the zinc, the copper or marble.
Kitchen: how to arrange it according to its configuration?
Whether your kitchen is L – shaped , U- shaped , or I- shaped , there are certain set-up rules that it must follow . Indeed, it must be designed according to the activity triangle . No need to place the refrigerator away from the hotplates and the sink. These three parts should be easily accessible because these are where we spend the most time when we cook. It is generally recommended not to place the sink or the hob at an angle.