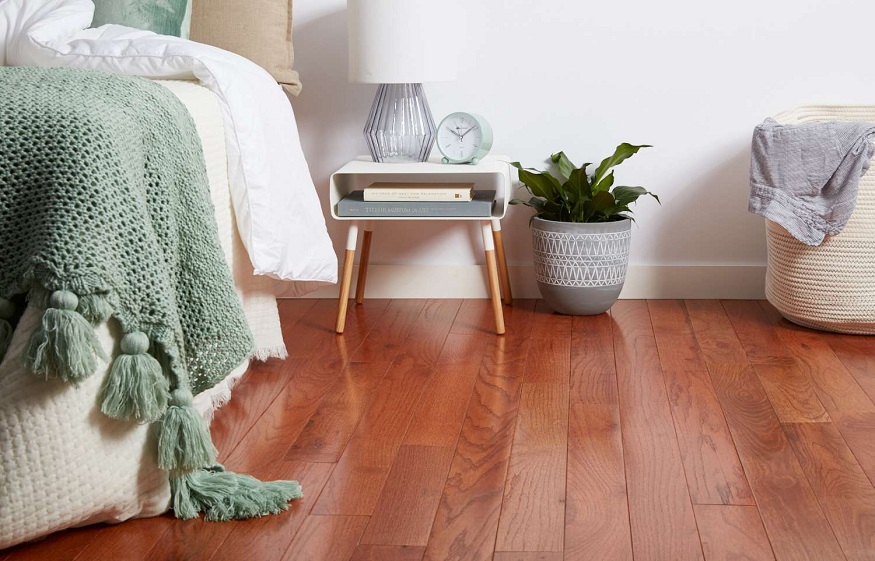 What Are The Main Types Of Flooring In The Bedroom?
Read Time:
4 Minute, 10 Second
Your bedroom floor is the first thing you step on in the morning and the last thing your feet touch before bed. The effect it has on a person is physical and psychological, so choosing flooring material is an important design decision. Do you plan to buy an apartment, but first, you want to know what flooring materials exist?
Don't worry, in the following article; we will show you five popular materials for bedroom floors. In this way, you will be more informed when looking for the apartment of your dreams. 
Carpet
Carpet is a trendy choice for a bedroom floor surface because it's soft and warm to the feet, an obvious advantage in a room where you're often barefoot.
That tactile comfort helps create a sense of lush luxury in the room while keeping your feet from getting cold on chilly winter mornings. But there are other reasons why rugs are popular. Here are its salient features:
 Features:
Thermal insulation – rugs, along with a good quality pad, can insulate a floor against heat loss, ensuring the bedroom stays warm.
Soundproofing: In a room where you sleep, the rug can absorb external noises and keep the bedroom quieter.
Cushioned Surface: This can be a safety issue in children's or older adults' bedrooms, as a fall onto a rug is unlikely to cause injury in the way a hard surface would. A good quality pad under the carpet can increase cushioning.
Wooden floor
Like carpet, hardwood flooring is the most popular choice for bedroom flooring. According to real estate professionals, natural wood is often considered one of the best flooring materials. Not only is it beautiful and sturdy, but it is also relatively warm and durable. Even better, it's organic.
 Features:
Attractive Surface: Wood provides a warm, natural beauty to a bedroom. The look will vary depending on the type of wood and finish, but wood almost always brings a sense of simple beauty to a room.
Warmth and Strength – While not as soft as carpet, hardwood planks have some performance and are more delicate and warmer underfoot than most tile alternatives. Wood can be combined with rugs to make the floor even more pleasant.
Improves Real Estate Values ​​– While this wasn't always the case, in today's real estate market, hardwood flooring is a highly sought-after flooring. And apartments and houses with wood tend to sell faster and at a slightly higher selling price.
Wood-like porcelain
Wood-like porcelain tile is manufactured using inkjet technology that imprints the look of wood on the tile's surface with incredible realism. Tile surfaces are often evenly textured to mimic the grain of the wood.
It is an artificial product, so wood-like porcelain tile comes in a wide range of colours, finishes and textures. Traditional oak, rich cherry and wood chunk finishes are just a few options.
With such a wide selection, it's easy to find wood-like porcelain tiles designed to elevate the style of any room.
 Features:
Easy to Maintain: Like all porcelain tiles, this option is easy to maintain. Using a broom or vacuum cleaner removes all the dirt. When a deeper clean is necessary, all that is needed is a mop and a bucket of soapy water.
Durability: It is strong enough to be installed from the front door to the kitchen or bathrooms. It does not scratch or show wear when one walks on it. Not only will it stand up to the daily wear and tear of a family, but it's also incredibly waterproof and won't swell or warp when exposed to moisture.
At Soho Inmobiliaria, we have two modern apartment projects with wood-like porcelain floors. We refer to Soho Life and Soho Libertad. These new apartments are designed exclusively to meet your needs and those of your family and are located in strategic areas of the capital.
Cork floors
Although still a relatively unusual material, natural cork flooring is becoming more popular in bedrooms. Among its most important characteristics is its insulation capacity between floors. This can help provide soundproofing and maintain adequate heat and air conditioning.
Features:
Fluffy and soft underfoot: cork is a flexible and highly comfortable surface for feet. Apart from rugs, this is one of the most forgiving floors when a person falls.
Warm underfoot: This material is more generous than wood, though not as cosy as rugs.
Insulation: Cork is filled with millions of tiny air bubbles, providing thermal and acoustic insulation.
Vinyl flooring
Whether sheet or tile, vinyl is a surprisingly versatile option for bedrooms. This is no longer a floor reserved only for bathrooms and kitchens. Many styles are now available, with luxury vinyl products almost indistinguishable from wood or ceramic. 
Features:
Nearly Waterproof – Although this factor is more important in bathrooms and kitchens, the waterproof nature of vinyl can be valuable in bedrooms with bathrooms. In the same way, this material facilitates cleaning.
Easy Maintenance – Bedrooms are low-traffic rooms, so vinyl is easily kept clean with occasional sweeping and mopping.