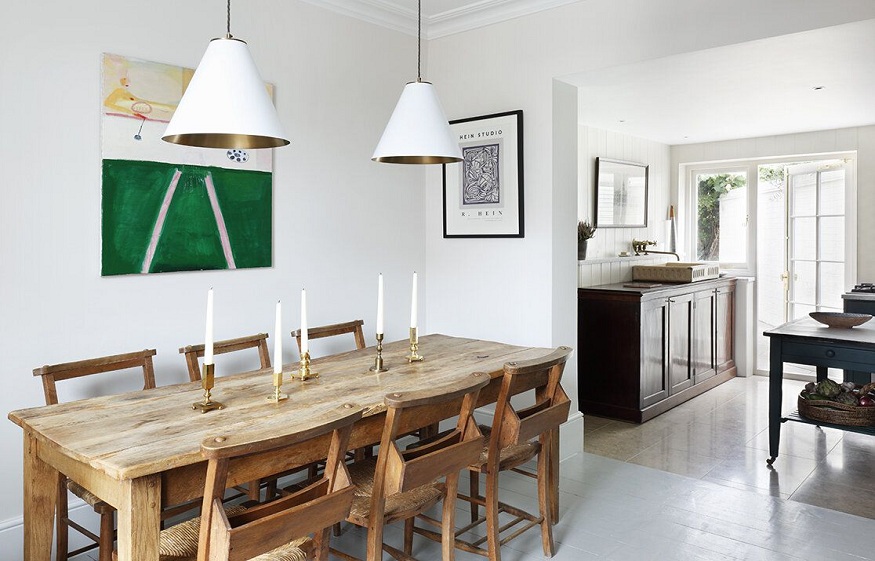 The Rise of Modern Live-edge Tables: How They Can Enhance Your Dining Room
Read Time:
3 Minute, 39 Second
The world of interior design has seen many trends come and go, but few have captured the imagination, quite like the live edge dining room table. As homeowners increasingly seek out unique pieces that bring character and individuality to their spaces, the appeal of these tables has surged. Why? Let's dive into the captivating universe of modern live-edge dining table designs and discover their transformative allure.
Live-edge Tables: A Closer Look
So, what exactly sets live-edge tables apart? It's the preservation of the wood's authentic edge. Where traditional tables might be planed down to uniformity, the live edge retains the wood's original curves and quirks. Every nick, knot, and wave is celebrated, making these handmade furniture pieces as much a labor of love as of craftsmanship.
Embracing Nature in Design
In its purest form, nature has always had an alluring pull on the human psyche. This explains our collective swoon over handmade furniture like live-edge tables. The integration of raw, untreated edges that follow the natural contours of the tree encapsulates beauty in its most primal form. Tied deeply to biophilic design principles, these pieces remind us of nature's serenity and simplicity.
Unique and Customizable Creations
Every live-edge dining room table carries an inimitable story. Natural variations in wood grain and knots ensure that no two tables are identical. But there's more. The rise of custom furniture allows discerning customers to add a personal touch. From cherry to walnut or oak, the type of wood and specific dimensions can be tailored, ensuring a truly custom wood dining table that matches one's vision.
Integrating Rustic and Contemporary Styles
One might think rustic charm and contemporary chic are at odds. Not so with live-edge tables. They blur these boundaries, offering a piece that can anchor a room, whether it's steeped in modern minimalism or rustic coziness. Whether you juxtapose them with sleek metal chairs or plush, upholstered benches, the adaptability of these tables is genuinely astonishing.
The Perfect Balance of Functionality and Art
While any table can serve a meal, a modern live edge dining table offers more than utility—it's a conversation starter, an artwork, and a slice of nature preserved. Every meal becomes an experience, with the table's natural imperfections and textures beckoning touch and admiration. It's not just a table; it's a functional sculpture.
Creating Conversational Dining Experiences
With a live-edge dining room table as the centerpiece, every meal becomes an engaging narrative. Guests are naturally drawn to the table's distinctive form, sparking conversations about its origin, design, and the essence of blending nature with art. It's more than dining; it's an experience of bonding and storytelling.
Natural Flair Meets Modern Elegance
The beauty of live-edge tables is their ability to intertwine the ruggedness of nature with sleek design elements. Think of a burly slab of wood poised on delicate, hairpin metal legs. It's where the raw meets the refined, creating statement pieces that captivate and enchant any dining setting.
Sourcing Sustainable and Ethical Materials
Beyond aesthetics, there's an ethical dimension to live-edge tables. Many artisans prioritize sustainably sourced or reclaimed wood, aligning with the rising consumer demand for eco-friendly handmade furniture. So, by choosing a live-edge dining room table, you're not just making a design statement—you're advocating for our planet's future.
Maintenance Made Easy
A common misconception is that live-edge tables demand high maintenance. In reality, their rugged charm is matched by robust durability. Resisting daily wear, they require little more than regular dusting and occasional polish. Simple care routines promise longevity, ensuring that the table remains the room's focal point for years.
Investing in Timeless Appeal
Trends fade, but the innate allure of nature endures. The modern live-edge dining table is a testament to this timeless appeal. While other furniture may age or go out of style, the organic beauty of these tables ensures they remain relevant, becoming treasured family heirlooms.
Conclusion:
There you have it—the undeniable charm and enduring allure of the live-edge dining room table. Beyond its aesthetic appeal, it encapsulates art, nature, and impeccable craftsmanship. If you're seeking a genuine, one-of-a-kind masterpiece for your dining space, it might be time to explore the world of live-edge tables. Elevate your dining experience, celebrate nature, and make every meal memorable.